Lately, donkeys have been all the rage on social media for their vocal, loving, and outgoing natures. If you've been thinking about getting a donkey, you may be wondering how much their needs actually cost, and more so, how much does it cost to maintain a donkey. Just like any other animal, donkeys need food, shelter, and medical attention. Additionally, donkeys need ample room to move around freely outside. So, how much does it cost to maintain a donkey? The simple answer is that it varies. Here's everything you need to know.
Well, how much does it cost to maintain a donkey?
If you're looking to adopt or buy a donkey, it's generally reasonable to expect to pay around $10,000 yearly (in the United States) to maintain their upkeep and needs, but it varies on a case-by-case basis. Some donkeys may have more medical or behavioral needs than others. While donkeys are truly one of the most adorable land animals with so much love to give, one needs to consider how much they actually cost, both upfront and long-term.
To successfully maintain a donkey's health and happiness, an aspiring or existing owner must consider the costs of food, veterinary care, and shelter. Other factors include space, socialization, and whether to go the breeder or rescue route when getting a donkey, which can span anywhere from several hundred dollars to several thousand.
How much does donkey food cost?
Donkeys primarily eat hay as their main food source. On average, one full-grown, adult donkey eats about 100 hay bales a year. Generally, 100 hay bales a year cost about $500. While it's great for donkeys to eat hay, they can also be great grazers. They are non-selective and very food oriented, meaning that they can successfully eat and graze on properties where they have a wide variety of food selections. Depending on where you're located, your donkey can graze freely year-round. However, expect to set aside money for hay yearly if you plan on getting a donkey.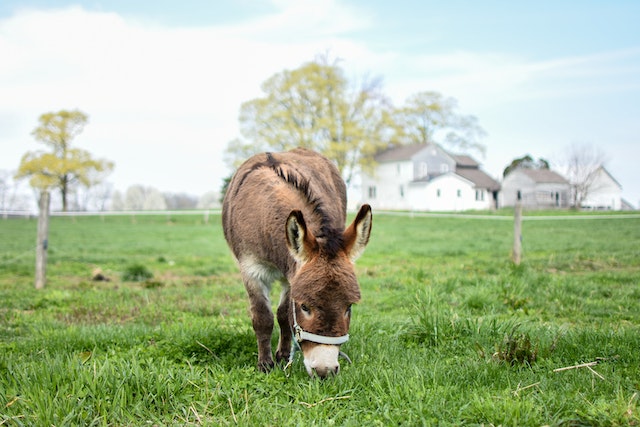 How much does veterinary care cost for a donkey?
It's important to keep your donkey happy and healthy by providing them with regular veterinary care. For a regular visit, it's about a standard $50, but this can vary from country to country and region by region. Generally, it's best to pay a vet to come out to examine your donkey. That's just a standard flat-rate exam. Expect to pay the following costs for your donkey's veterinary care:
Annual flu shot: $15 to $20 USD
Annual rabies shot: $15 to $25 USD
Annual fecal egg count: $10 to $15 USD
Annual dewormer: $30 USD
Ferrier (six times per year): $240 USD
Sterilization: $350 to $400 USD
As your donkey ages, it's important to upkeep their dental health. They should get their teeth checked twice yearly to be safe and to prevent any dental disease or decay. Also, you should expect to pay around $240 a year to keep their hooves healthy.
How much does shelter cost for a donkey?
Donkeys need shelter to keep them comfortable, happy, and safe. While they are outdoor animals, they still need a place of their own to retreat to. If you already have shelter for existing livestock, you may not need to worry about this part. Barns are preferable, especially in the colder months. These can be a great investment for your donkey.
As a rule of thumb, expect to set aside a few hundred or thousand dollars to create the barn of your donkey's dreams. However, sheds can suffice just fine if you only have one or two donkeys. Sheds can generally run from $1000 to $5,000 in the United States. That's solely for building or installation. Other factors for donkey shelter include:
Feeding trough: $20 to $200 USD
Water tank: $100 to $700 USD
Water tank heater: $200 USD
Bedding: $30 to $50 USD
Fencing: $1,500 to $3,000 USD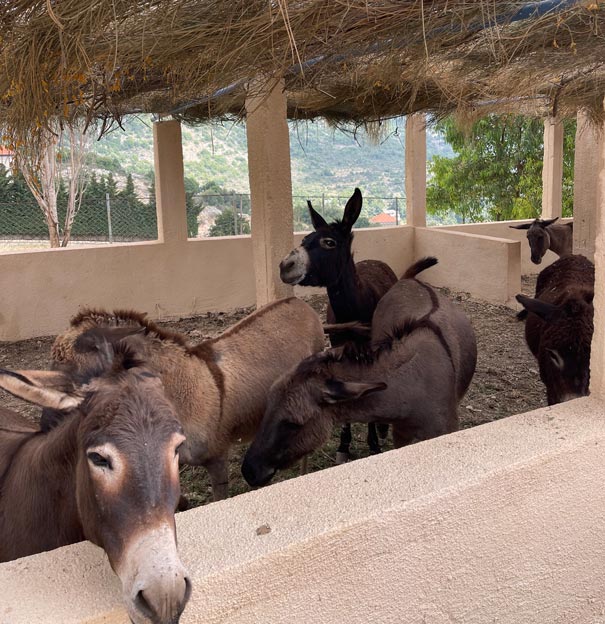 Other factors to consider
Now that we've gotten all the logistics out of the way, it's important to remember that donkeys are highly social creatures that form intense, loving bonds with other animals and their people. For this reason, it's recommended that your donkey has a fellow donkey friend to keep them company. As a donkey owner, when you are getting 2 donkeys, the above-mentioned costs can almost double every year.
It's also important to take into account the cost of physical space when it comes to getting a donkey. For example, half an acre is recommended per standard-sized donkey for roaming and grazing. Having access to grass, free-roaming areas, and a shed or barn will drastically improve your donkey's quality of life, regardless if you get a standard or miniature donkey.
Another cost to consider is where to get your donkey. Just like there are breeders and rescues for dogs, there are also breeders and rescues for donkeys. The cost to purchase or adopt a donkey can vary based on their lineage, coloring, background, age, and health. Just like dogs, donkeys also need regular training and socialization to help them thrive into their best selves. When sourcing a donkey from a breeder or rescue, be sure to ask about their health, behavior, and socialization histories.
Conclusion
Now that you know how much it would cost to maintain a donkey and all the logistics that come with it. It's important to remember that these annual costs can pile up over the years. Donkeys live long, full lives and will strive every day to work hard and make you happy. Make sure you always have money to set aside to provide the best care possible for your equine best friend. With these tips, we hope you're ready to bring a donkey into your life with all the love, loyalty, and laughter they have to offer.